November 21, 2016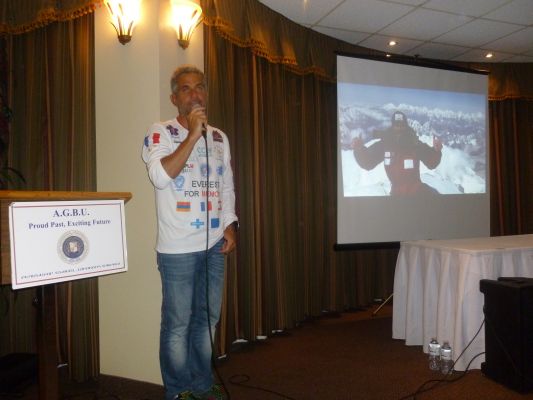 ALPINIST ARA KHATCHADOURIAN SHARES HIS JOURNEY TO THE PEAK OF MOUNT EVEREST WITH AGBU TORONTO
In memory of the Centennial of the Armenian Genocide, Khatchadourian waves both the Armenian and AGBU flags at the peak of Mount Everest.
On October 4, 2016, AGBU Toronto chapter welcomed Ara Khatchadourian to speak and share in his challenging yet rewarding experience to the top of Mount Everest. Held in the AGBU Centre, an audience of over 100 attendees watched footage of the ascension and the months of training and preparation Khatchadourian committed to for the climb.  The presentation was followed by an interactive question and answer session. 
Ara has climbed some of the highest summits, including Mount Blanc in France, Mt Kilimanjaro in Africa, Mt Cotopaxi in Ecuador, Samaja in Bolivia, Huascaran in Peru, Lenin Peak in Kyrgyzstan, and Mount Ararat.  Promoting the Armenian cause through his dedication, Khatchadourian received the certificate of gratitude from Armenia's Prime Minister Hovik Abrahamyan as well as the Ministry of Diaspora's "Gold Medal". Khatchadourian continues to spread his message of unity for all Armenians by travelling to various institutions, encouraging each member to get involved and feel connected to the Armenian cause.
 At the Toronto chapter presentation, audience members marveled at the discipline and unwavering faith Khatchadourian displayed through all of his climbs.  Ara answered curious questions on how he was able to organize and complete such a mission dealing with severe conditions on Mount Everest.  Above all, the audience felt the pride just by living through his tales of his journey.  Ara is currently organizing a cross continent run, from Marseille to Yerevan in 2017, and will utilize this endeavor as a platform to create awareness of the Armenian Genocide.
 By Nyrie Kouyoumdjian