March 28, 2017
AGBU Toronto Hosts the Karapetyan Brothers
 On Sunday evening, March 19, the Babayan Hall of the Alex Manoogian Cultural Centre was abuzz with a large crowd of music lovers who had come to hear a rare musical concert hosted by AGBU Toronto and AGBU Performing Arts Department and placed under the auspices of H.E. Mr. Armen Yeganian, Ambassador of the Republic of Armenia to Canada: two violinist brothers, Henrik and Hrayr Karapetyan, and pianist Hasmik Manukyan.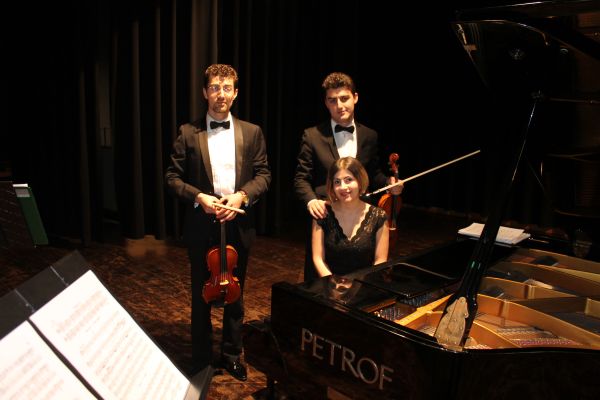 Classical music concerts in the Toronto Armenian community are few and far between, therefore each one holds a special place in the eyes (and hearts) of those present. This particular concert was no exception, in part because of its rather unusual formation – two violins and piano, but also because of the relatively heavy emphasis on Armenian composers in the repertoire. Perhaps the more memorable aspect of the concert was the story behind the teaming up of the two Karapetyan brothers and Hasmik Manukyan, as explained in the program notes.
"The Karapetyan Brothers" project was created by the desire of the two Yerevan-born brothers to work together after being separated from each other for more than a decade due to life and career circumstances. While Henrik settled in the United States, the younger Hrayr and his wife Hasmik subsequently made their careers in Belgium. Their first musical reunion took place after twelve years of separation, when the two brothers – both recipients of multiple AGBU scholarships – were invited to perform with the World Armenian Orchestra in Paris in an AGBU project commemorating the Centennial of the Armenian Genocide. Soon after, they agreed to concertize together. For their inaugural concert, in the summer of 2015, the two brothers, joined by Ms. Manukyan, an accomplished concert pianist, were given the honour of opening the Miniemen Festival in Antwerp, Belgium. Having lost their father, Hayk Karapetyan during the same summer, the two brothers dedicated the entire project to his memory. Since then, the trio has performed over a dozen concerts, and their recent Toronto appearance marked their Canadian debut.
The program consisted of works by various European and Armenian composers, and featured the three performers in various combinations, and represented various styles. Opening with Darius Milhaud's Sonata for 2 violins and piano, Op. 15, and followed by Belgian composer Charles de Beriot's Duo Concertante No.1, Op. 57 for 2 violins (Henrik and Hrayr), the first part concluded with Edward Baghdasaryan's "Armenian Rhapsody" for violin and piano (Hrayr and Hasmik). The second part opened with a piano solo, Arno Babajanian's "Poem", followed by Aram Khachaturian's "Song-Poem" for violin and piano, Johannes Brahms' "Sonatesatz" (Scherzo) from F-A-E Sonata (Henrik and Hasmik), Vaché Sharafian's "Serenade with a Dandelion" for 2 violins (Henrik and Hrayr), Dmitri Shostakovich's "Five Pieces for 2 Violins and Piano", and finally Igor Frolov's "Divertimento" for 2 violins and piano".
Both violinists played with a beautiful intonation, a vibrant sound and intense lyricism, and displayed a solid mastery of their instruments, as did the pianist, both as a collaborative artist and as a soloist. The trio's electrifying performance brought the delighted audience to their feet. To satisfy the incessant applause, the trio performed "Dance of Vagharshapat" by Komitas.
Established in 2012, The AGBU Performing Arts Department supports talented young Armenian musicians worldwide through its Performing Arts Scholarship, Fellowship and Mini-Grant programs, acts as a network connecting young Armenian talent around the world, brings talented musicians and music lovers to Armenia each summer for workshops and masterclasses, and introduces Armenian art to diverse audiences.
Dr. Araxie Altounian