October 2, 2017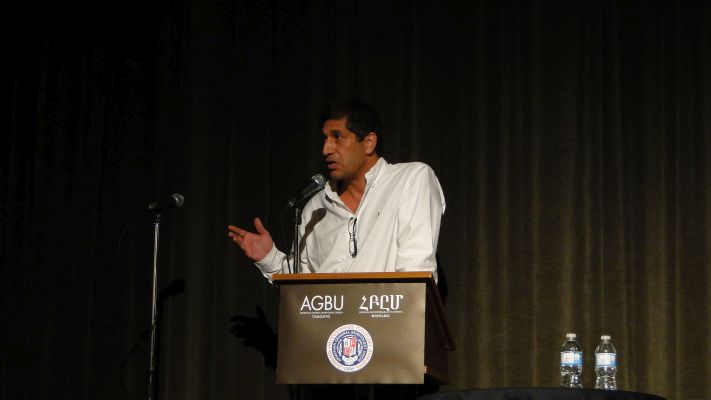 On the evening of Wednesday, September 24th, a large crowd had gathered at AGBU Toronto's Babayan Auditorium to view the documentary film, Crows of the Desert. The executive producer of the film, Paul Turpanjian, who had flown from Los Angeles with his wife Bennette especially for the screening, was briefly introduced by Knar Basmadjian.
Mr. Turpanjian related the background that had inspired and instigated the TF Educational Foundation to make the film.  It is based on the moving memoirs of the Urfa born Levon Yotnakhparian. He was presumed dead lying amongst the countless corpses of the massacred during the Armenian Genocide but somehow survived and through sheer persistence and determination summoned the courage and fortitude to help save thousands of other destitute survivors in the desolate deserts of the Middle East. The film is Yotnakhparian's story of resistance and persistence and it is also the story of a nation that refused to die.
A large team of talented and dedicated individuals were assembled and engaged in three years of meticulously researched work to complete the film. And it shows. The film is riveting. One is invariably drawn into the story which is tightly edited with nary a superfluous image. It is compelling. Not only is Yotnakhparian's efforts to save his fellow Armenians heroic but his undaunted enlistment of a diverse group of humanists to help his cause is just as fascinating to behold. Congratulations are in order to Mr. Turpanjian, the director of the film Martha Houske, the editors Chris Toussaint and Brian Denny, the composer John Massari, and a host of others, for their splendid work.
The loud round of applause that reverberated in the hall at the end of the film amply illustrated that the audience shared this opinion. The Question and Answer period that followed with Mr. Turpanjian, moderated by Silva Basmajian, displayed as well the enthusiasm with which the film was received. At one point during the Q&A, an audience member asked: "Why am I the only young person here?" His question elicited quite a laugh. But the question was serious. As befits the TF Educational Foundation, this winning film is perfect viewing for all high school students who are presently engaged in the study of genocides. It is seminal in its genre and ought to be seen by the youth, especially the youth in our community.
Because it is a perfect example of a work of art that is the epitome of the dulce et utile (instructive and entertaining) it is perfect viewing for all general audiences as well. And those of you didn't get a chance to see it at the AGBU or those of you who would like to see it again may do so on October 14th, when The Crows of the Desert will be screened at 5:00 p.m., Lucie and Thornton Blackburn Conference Centre, located inside George Brown's student residence, The George, at 80 Cooperage St., near the Distillery District.  Advance tickets can be purchased at www.commffest.com
isa basmajian