April 9, 2018
AGBU's Garni Dance Ensemble Captivates Toronto Audience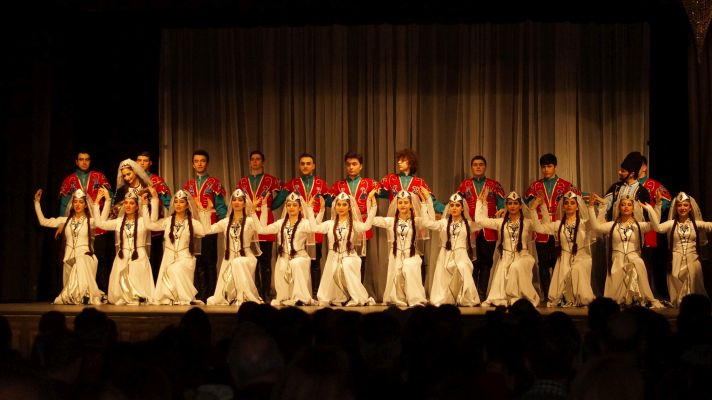 Spring arrived in Toronto on the evening of Saturday, March 24th, 2018, a few days after the actual Equinox, in the form of Montréal's dynamic AGBU Garni Dance Ensemble. The company is an ensemble made up of some fifty gifted individuals, headed by the choreographer and director extraordinaire, Lyudvig Boulghadaryan. The laudatory introduction to the group by Chahé Tanachian, Chairman of Montréal's AGBU Executive Committee, had already hinted at the extraordinary evening that lay ahead. It certainly more than lived up to it.
The large audience that had filled the Babayan Hall of Toronto's AGBU Alex Manoogian Cultural Centre was enthralled by what they saw on stage from the time the curtain went up. Everyone was easily mesmerized by the charming and youthful vitality of the performers in their stunning costumes. As I viewed the lively dances, the poem Yes Im Anoush Hayasdani (To my Sweet Armenia) by Yeghisheh Charentz kept running through my head, particularly the line, "oo Nairian aghchigneri hezagegooyn barn em siroum" (and the graceful dances of the Nairian girls I love).
Mr. Charentz, were he still alive, would I'm sure be inspired to write another poem after viewing the performance of the Garni Dance Ensemble. For the group not only brought with them the invigorating freshness of a spring breeze in their exquisite performances but also brought with them the spirit and the fresh breezes of an ancient land, Armenia. Theirs was more than merely an aesthetic dance program, it was a celebration, in dance and music, to the longevity of Armenian culture, Armenia and its people. That was its essence.
From the dances with the names of Armenian regions dripping with history such as Zankezour, Vaspouragan or Moussa Ler to the beautifully danced homage to the famous seventeenth century troubadour, Sayat Nova, the AGBU Garni Dance Ensemble stirred the emotions and awakened or reawakened an intense pride in the Armenian identity of the spectator. The composer, performer and teacher Artur Markosyan further embellished the experience when he introduced and movingly played traditional Armenian woodwind instruments such as the shvi, the doudouk, the srink, the zourna and the bgou. Accompanying him brilliantly on the dohl, a traditional percussion instrument, was Emil Bazinyan.
The performance ended with the finale aptly entitled Menk Enk Mer Sarereh (We Are Our Mountains). The dances, the music, the instruments, the performers, the director, they are the mountains of Armenia. Each may be standing as separate entities and yet are united by an invisible bond that pulls them together. The audience became part of that whole as the performance continued. We too became our Mountains. Bravo Garni Dance Ensemble for a spectacular evening that will linger on for a long time.
isa basmajian