June 9, 2023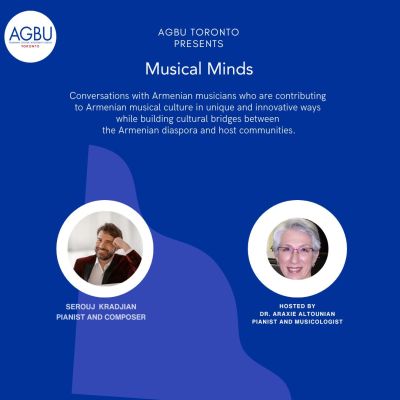 "Musical minds" is the title of a conversation series with established, talented Armenian musicians with a Canadian connection who contribute to Armenian musical culture in innovative ways and build bridges between the Armenian diasporic community and its host societies. The series is the brainchild of Toronto-based lecturer, pianist, and piano instructor Dr. Araxie Altounian and is hosted in collaboration with AGBU Toronto.
Dr. Altounian's first guest was none other than award-winning pianist/composer, Toronto's very own Serouj Kradjian.
By: Dr. Araxie Altounian
Note from the author: "Musical Minds" is the title of an online conversation series with established talented Armenian musicians with a Canadian connection who contribute to Armenian musical culture in innovative ways and build bridges between the Armenian diasporic community and its host societies. AGBU Toronto has graciously provided its Zoom platform for live broadcast on Facebook, and its recording on Facebook and Instagram, while Torontohye has been kind enough to publish them.
The following is based on my conversation with my first guest, pianist/composer Serouj Kradjian. Born in Lebanon, Serouj Kradjian moved to Toronto, Canada as a teenager, where he pursued his music studies at the University of Toronto, receiving a bachelor's degree in Piano Performance. He completed his postgraduate studies at the Hochschule für Musik in Hanover, Germany, and resided several years in Madrid, Spain where he founded and directed the Camerata Creativa. Since the 2008/9 season he is the pianist and co-artistic director of the Amici Chamber Ensemble in Toronto.
Kradjian stands out as a creative and versatile musician who wears many hats: a concert pianist, collaborative artist, arranger, and composer who is equally at ease in various musical genres stemming from various cultural backgrounds.
He is the winner of two Juno Awards: one for his 2004 recording of works by Pauline Viardot-Garcia with soprano Isabel Bayrakdarian, and the second for "Levant" (2012), with the Amici Chamber Ensemble. Serouj has also received Juno nominations for the following recordings: "Armenian Chamber Music" (2010) with the Amici Chamber Ensemble, "Troubadour & the Nightingale" (2013), "Mother of Light" (2016) , and a Grammy nomination for "Gomidas Songs" (2008).
A.A.: Serouj, 2023 has been a very active year for you so far! It started with two trips that are of special significance to our discussion today, one to Armenia and another to Lebanon. Special significance because firstly, both countries are related to your (and my) identity: Armenia being our spiritual homeland, and Lebanon our birthplace, but more importantly, because both small countries are going through some of the darkest times in their modern history. Armenia is a country at war, and Lebanon is severely crushed by one of the worst economic crises in the world today.
What is it like to make music in countries where people's immediate concern is survival, and where hope for a better future is growing slimmer? What was the reaction of your audience? And what role can music play in such a bleak environment?
S.K.: "Yes, these two countries are very significant to many Armenians and are going through some very difficult times. Let's start with Armenia. I was born in Lebanon, but Armenia was born in me. My recent trip there was my first in sixteen years. Planned some time ago, postponed because of Covid and the war, this concert was a new project of mine, called "Ser & Ouj" (Love & Strength). I needed a band and asked for some of the best musicians. We had just 5 days to rehearse which was a big risk. Unlike anywhere else in the world, these musicians were not only talented, but they made it their mission to give their best. The time invested in rehearsals was irrelevant – they just wanted to present their best. These days, Armenians receive a lot of negative news; however, there is so much good going on in everyday life in Armenia by silent heroes, who, for me, are the essence of the nation. The negative news became unimportant to me because there was so much more in that country. Residents of Armenia, more than the rest of us, have been through a major trauma in the past few years, but I see in them a sense of pride in living there, creating there, and yes, believing in the future.
As for Lebanon, the story is both similar and different – different because I'm born there and spent the first 14 years of my life there. The socio-economic situation is nearly catastrophic. The Armenian community that was known as the backbone of the diaspora, has dwindled. However, I saw in it pride in its institutions, in what kept us Armenians for so many years: the churches, the schools, the various community organizations. Returning there after 20 years, I rediscovered the true meaning of an "enker" (friend) in the sense of loyalty and devotion. Hamazkayin hosted my concert with the purpose of raising funds for their art school.
As a performing artist, you feel the moment when you establish contact with the audience. Both in my Armenian and Lebanese concerts I felt that moment from the very first note, which was a truly special feeling, one that I will never forget.
A.A.: On April 16, 2023, the Amici Chamber Ensemble gave its final concert of the season, titled "From Strauss to the Orient" with special guest the Canadian Lebanese soprano Joyce El-Khoury. The final portion of the concert was dedicated to Lebanese songs with your arrangement, and which Joyce sang beautifully. The Toronto based opera critic, Joseph So writes in Opera Canada: "Speaking to the audience, [Serouj and Joyce] expressed the wish to show music lovers in Canada and the world that Lebanon is much more than the war and bloodshed one hears in the news reports. Lebanon has a rich history and culture, and what better way to show the beautiful side of that country than through music? […] These songs are indeed lovely, folk-based, melodically inspired, and above all, full of life and spirit of the people. While I confess that I am not very knowledgeable about Lebanon, these gorgeous pieces, performed with such beauty, passion, and commitment, whetted my appetite for more.". Well, Serouj, it looks like mission accomplished!
S.K.: Both Joyce and I are Lebanese born Canadians, and we had this idea to record a new album which highlights Lebanese music from folk to sacred and pop, including Wadih El-Safi, Fairuz, and Zaki Nassif, and to cross over many styles, with Joyce's operatic voice taking on folk songs, but not always sung in an operatic way. Such an album does not exist and would present the best in Lebanese music in this arrangement. The album will be recorded in Lebanon in September. Again, for me, it's about rediscovering my roots. Throughout my musical journey, both my Armenian and Lebanese roots have been a lighthouse, I've always been proud of them and always used them as my inspiration and stayed true to both cultures. I think it's time to present Lebanon in another light. What people hear about is the socio-economic problems, the civil war, the refugee crisis, the port explosion. It's time to show the glorious side of the country and to show why the Lebanese nation does not deserve what it is experiencing right now.
A.A.: You recently performed at the Armenian Embassy in Ottawa for an audience made up of diplomats from various countries. What was the purpose behind the concert?
S.K.: The idea came when I met the Ambassador of Armenia, her Excellency Mrs. Anahit Harutyunyan at the Hayastan Foundation Toronto dinner. The international community associates Armenia with the war and the political crisis surrounding it, and my intention was to present Armenia in a different light to the various ambassadors in Ottawa. Unfortunately, the international community perceives us Armenians as a people who demand justice and fairness – which is true – but to associate our nation only with that is a bit sad, because we have so much more to offer. Ambassadors of over twenty-five countries from Europe, Africa, Argentina, and the Arab world attended. The program that I presented was far from their expectations: I wanted to tell them my story as a Lebanese born Armenian, my life story with all its glories and defeats, childhood memories, the civil war, the last Artsakh war, but also the hope, the light and the resilience that we have, and the beauty that we can give to the world as a nation, especially, as in my case, through music. I'm so happy that this story resonated with each one of them because it was a human story told through Armenian art. This has become my mission: to tell human stories through my music which is so heavily influenced by Armenian music.
The words of the Armenian poet Paruyr Sevak, "If we have ruled, 'twas only through our talent" have become my motto. Our trump card is our arts. Our per capita contribution to world arts puts us in the top 20% of the world, and this is an amazing accomplishment – a potential that has not been used to the fullest so far.
A.A.: Let's turn to Serouj the composer. Since your youth, you have loved to improvise. It's only a few short steps from improvisation to composition. But what I find remarkable is your tackling of large forms. You have a Cantata and film music in your portfolio, and recently you have composed an opera for the Canadian Children's Opera Company (CCOC). Can you give us a quick overview of your journey as a composer?
S.K.: My journey from pianist to arranger, to composer has been atypical. I never studied composition. I think composition found me. It was a way to express myself other than performing onstage. As a musician, you go through different stages: first, as a student, you're trying to please your teacher, then the jury that hears you in competitions. Then you're trying to please the audience who has come to hear how you will interpret Beethoven or other composers – they're very critical. After a while, I started getting bored and needed to do more. I entered the path of composition through Komitas when I arranged some twenty-five songs of his for orchestra. Another inspiration was the French composer Francis Poulenc, who was also self-taught.
A.A.: Your upcoming children's opera, "The Nightingale of a Thousand Songs" is written for the Canadian Children's Opera Company and is based on an ancient tale, known in Armenian as "Հազարան Պլպուլ". How did your collaboration with the CCOC start? What is it like to write an opera for children?
S.K.: The idea came from the CCOC after we collaborated in "Komitas: A Canadian Tribute" concert in 2019 in which the children's choir sang amazingly well! They asked me to write an opera based on an Armenian folk tale. I went through a number of them and found "Հազարան Պլպուլ" (The Nightingale of a Thousand Songs). I approached a librettist [Dora award-winning librettist Marjorie Chan]. The opera will be premiered in June (9-11), at the Meridian Arts Centre in Toronto. It's for about 80 kids who will sing mostly in English and some Armenian. It has a lot of Armenian symbolism and imagery. The story is about a brother and a sister who have just gone through a major tragedy in their homeland, symbolized by an orchard that has suffered a storm. To bring back light and hope (լոյս և յոյս) to their country, they must search for music. They go on an adventure to find the Nightingale of a Thousand Songs and to convince her to make their homeland a better place again. The opera is very colourful and has a leitmotif that appears frequently: "to live, to thrive, to heal". These are not only our nation's goals but contain a universal message – to find light and hope.
Writing an opera for children has its own challenges because the voices are not fully developed. The ages range from 7 to 14. You must be mindful of the accompaniment so that it does not cover their voices. But the kids are amazing – I did not have to write "easy" music for them. They're incredibly good and take on any challenge.
In terms of introducing Armenian art, I met with the singers to answer their questions. One 7-year-old asked if the storm at the beginning of the opera signified a genocide that my nation went through! I had not mentioned anything about it because I wanted to keep the opera's significance universal, so I was stunned! When I think about what it means to be ambassadors of our culture, it's about sending out universal messages through our art.
A.A.: Right now, you are working on a recording project with the Amici Chamber Ensemble called "Diasporic Bridges".
S.K.: It was made possible through a generous grant from the Canada Council – it's a film project that will tell musical stories of different diasporic communities. I divide the idea of Diaspora into four concepts: a) displacement because of war, b) descendants of genocide or holocaust who have formed diasporas throughout the world, c) the role of women in the diaspora (women as the backbone of their families who have just settled in a new place), and d) new beginnings. For the last one, I took different neighborhoods of Toronto: Little Portugal, Little Italy, Greektown, Chinatown, and the music that exists in these neighborhoods that sometimes border each other, Little India as well… It's a wide array of music and involves around twenty-five musicians from different backgrounds, fifteen composers of different styles, about fifteen stories of different diasporic communities told through music.
A.A.: To conclude, I would like to have your opinion on the following comments: French composer Maurice Ravel, who lived through the First World War, was quoted in an article as having said: "Joy is more fertile than pain". On the other hand, Mademoiselle Nadia Boulanger, another French composer, choral conductor and one of the most eminent (and exacting) music teachers of the 20th century, was invited to give a concert for soldiers during the war, which she did with apprehension, thinking her program would be too difficult for the soldiers to comprehend. To her surprise, one of the works, "Dieu! Qu'il la fait bon regarder" by Claude Debussy had to be performed three times! Being both a composer and performer, how would you comment on the views expressed by Ravel and Boulanger?
S.K.: I think both emotions have shaped me. By nature, I'm an optimist and see the good even in the worst situations. I composed some of my best music after the second Artsakh war when, like many Armenians, I was absolutely devastated. Both joy and pain affect me, yet, whatever the mood, I sincerely believe that music has the power to heal and even to defeat evil. If we gave the chance for good music to shine and become an affecting factor in our daily lives, we would see a change. After my concert in Lebanon, people approached me, people who have lost so much during the economic crisis, and told me they did not want to leave the hall because they did not want to face the reality once they walked out the door. They thanked me for giving them an unforgettable evening, but they gave me an even more unforgettable evening – they healed me as well, inspired me, and gave me the will to do even better. Music is not an easy path. In spite of its glamorous aspect, it has a lot of lows, some quite devastating, but also some highs. It is not only the performer who heals the audience; things can work the other way round too!